Amook Island
In recent years I have begun hiking on an island near Larsen Bay named "Amook Island." There are safe nearby places to anchor my boat, and it's an interesting territory to hike and explore. Let me orient you:
| | | |
| --- | --- | --- |
| Overview | | Perspective looking northwest |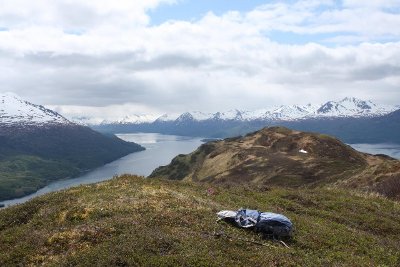 Looking south along Uyak Inlet
from the top of Amook Island
The hikes on this island are interesting, and the views from the top are spectacular. In speaking to the people in Larsen Bay (the nearby small town and fishing center), I have discovered that people rarely visit, and almost never climb, this mountainous island. That's a shame, because it's very pretty, even though it's a somewhat challenging hike.
When I first climbed Amook Island a few years ago, I got the impression there were no bears on the island, but local people tell me they sometimes see brown bears while flying overhead. So I maintain my usual precautions — I carry bear spray and make lots of noise while hiking.
The island has an obvious anchorage near the northwest end, but the highest point on the island is near the middle, about two miles farther south, through very rugged and steep terrain. So making one's way from the anchorage to the topmost point on the island is quite a hike. Over a few years I've worked out how to make this hike efficient, and this season I finally reached the topmost point.
But I have a story about the last few hundred yards of this hike. As I approached the last ascent, within a short distance of the area shown in the adjacent picture, I startled a doe, who jumped up from where she was hiding in the brush and began to slowly move away.
But she didn't just sprint out of sight, insead she kept turning around and looking at me in a rather odd way. I began hiking again, only to look down and see this: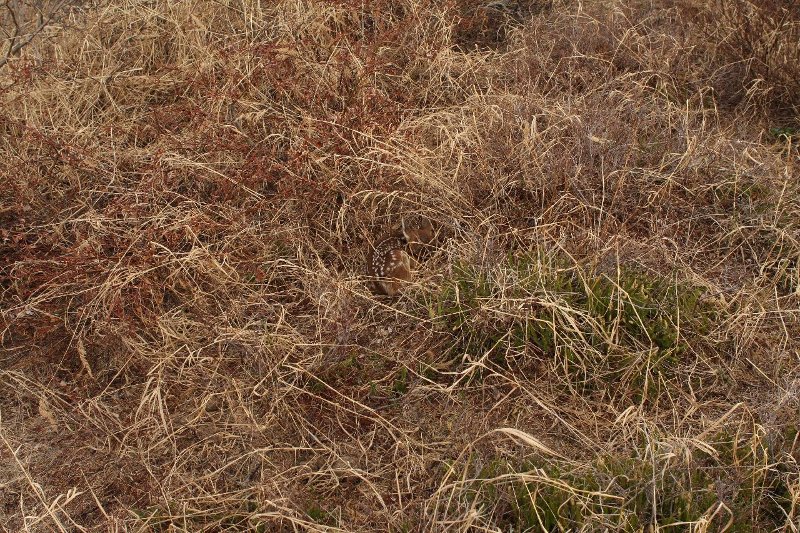 Are you having trouble making out what I saw? Here's a closeup: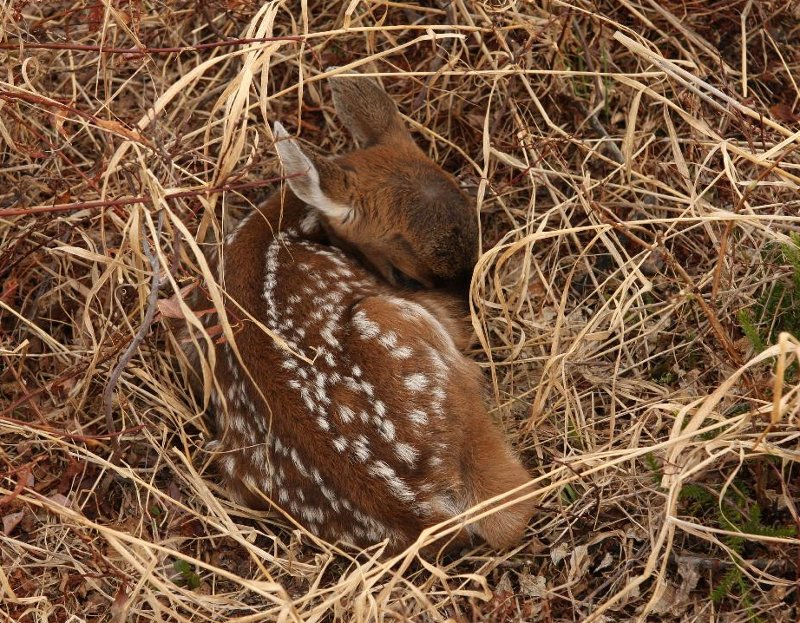 At that point everything fell into place — mama deer was trying to lead me away from her treasure, so she couldn't just sprint away at top speed. As for myself, I avoided approaching too close to the faun, not wanting to cause it to be abandoned by its mother.
The faun kept perfectly still, even as I leaned over it for closeups. Later I thought about the fact that this tiny creature's survival hinged on how hard it was to see in the tall grass — nothing else could protect it from any bear or human that might wander by.
Now imagine being the faun — "Just keep perfectly still and everything will be all right." And imagine a natural world where that's likely to be true.