Introduction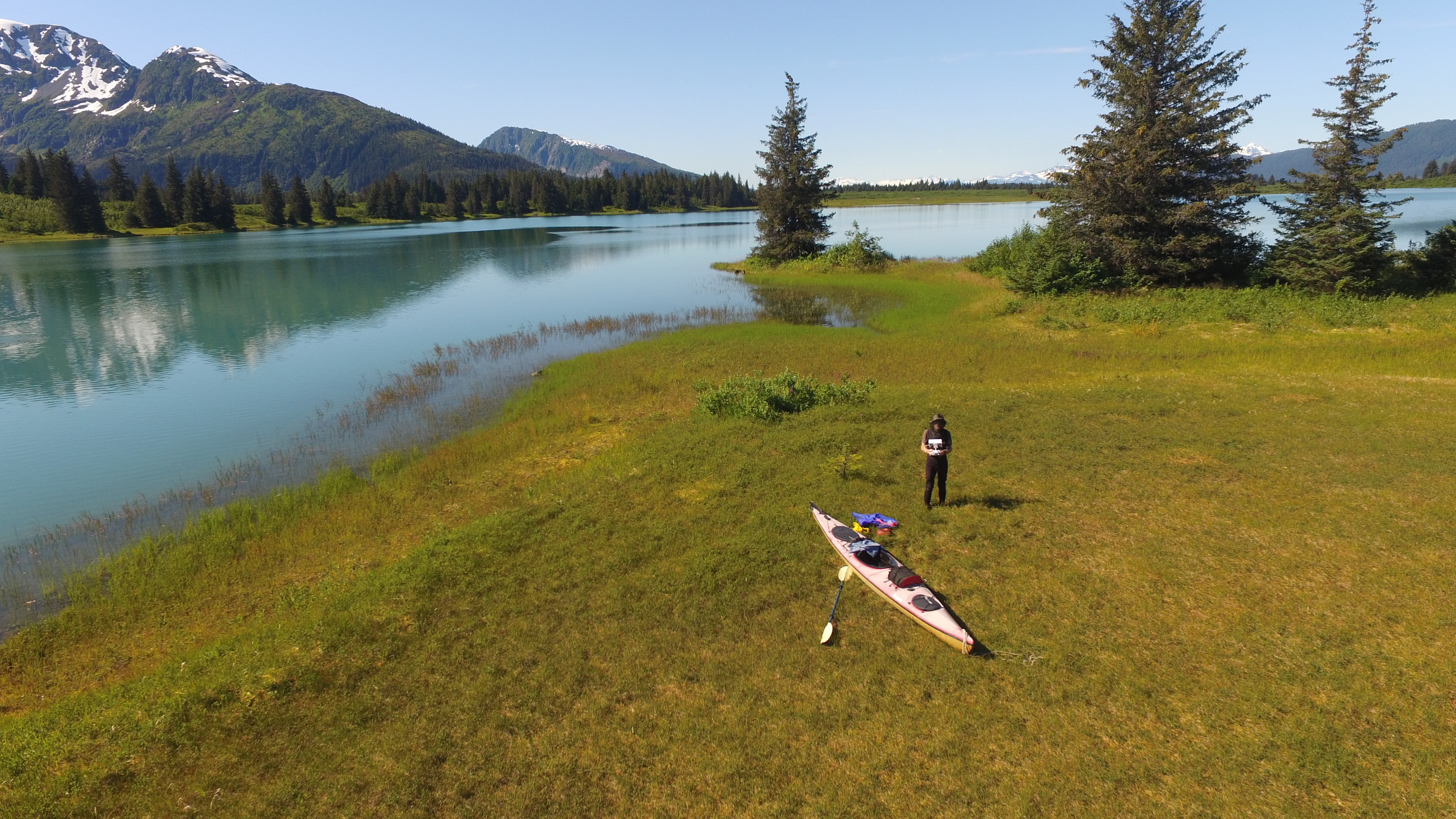 Launching quadcopter at Coghill Lake, Prince William Sound (click image for full size)
I've recently been mixing my Alaska outings with quadcopter experiments — seeing what useful and interesting things they can do. I'm discovering that I can survey a landscape with a drone, take high-resolution pictures, then use the pictures to find new hiking trails in places where I thought I knew the land — but didn't.
Some readers may wonder why I don't just exploit existing satellite images to get this kind of data. As it turns out, without paying for special imagery, if one consults freely available sources like Google Maps, the Alaska satellite imagery is nearly unusable because of the poor resolution. The imagery for the lower 48 states is better, but a drone image is still to be preferred even there — it offers more detail.
This year I found some new routes through the landscapes of places I like to visit, routes I wasn't able to find by ground exploration. Obviously the idea of an aerial survey isn't new — what's changed is that inexpensive drones make both the cost and effort much lower.
I also managed to pack my drone into my kayak for a few outings like that shown above, even though there's a risk of getting the drone so wet that it will cease to function. For this kind of outing I discovered that my largest waterproof bags weren't nearly big enough to hold a drone, so I took the chance that my drone would get wet — and it did.
Also, this year, mostly because of my boat's age (now 15 years old), by the end of the Alaska cruise I had accumulated an astonishingly long list of things that needed repair. By the time I tied up at my home port, things were so bad that I was measuring water depths with a hand sounding line, as though it were the 19th century. On that topic, I've always thought having a hand sounding line is a good idea, a preference I acquired during my around-the-world solo sail years ago. But calibrated sounding lines are now nearly impossible to acquire from sailing vendors (I make my own).
One more item of interest. I hike a lot in Alaska, and I always carry a trail saw. I have no hesitation about making a trail for myself if the destination seems enticing and if the brush isn't too gnarly. This year I noticed something about a trail I had blazed a few years ago — the local animals liked it and had started using it themselves. I thought that was pretty cool. Then I thought a bit more and came up with an idea — there are three kinds of Alaska hiking:
In hiking of the first kind, you locate and exploit human trails.
In hiking of the second kind, you locate and exploit animal trails.
In hiking of the third kind, animals locate and exploit your trails.
I hope you enjoy this year's articles.
Important: this year's articles cover only the best of my many Alaska photospheres. For a full selection including images from Canada and Washington State, visit my Photosphere Gallery page.
Navigate this article set with the arrows and drop-down menus at the top and bottom of the pages.