dbEdit Home Page
Current Version: 3.4 (10/31/2001)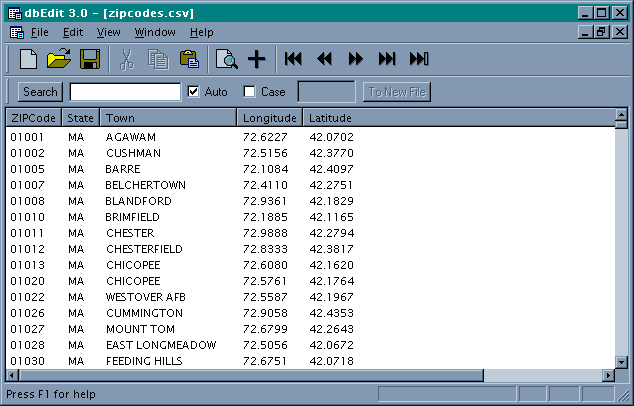 Here is dbEdit's appearance while running. The database can be searched, subset tables can be created, phone numbers can be dialed, the database can be sorted in various useful ways, and any of the records may be edited.
What is dbEdit?
dbEdit is a very easy-to-use database program. dbEdit will dial your phone, allow you to edit databases in an easy way, sort, search, create subset tables, and many other things. dbEdit is an MDI (Multi-Document Interface) application — this means many databases can be open at a time. Records can easily be moved between databases or between applications, you can conduct multiple database searches, and custom macros can be written that allow dbEdit to launch programs and provide them with data. Oh, I almost forgot the other good news. dbEdit is CareWare — that means no money, now or ever. You just have to care.
Click here to download dbEdit as a self-extracting executable (511 KB).
Installation Instructions
Download dbEdit, run the self-extracting executable, and the program will install itself. Run the program. Either create your own new database or import data from other applications and sources. Be sure to read the provided help file if difficulties arise, or if you wish to use dbEdit to its full potential.
Version History

10/31/2001 - version 3.4. Fixed a bug that failed to include the last field of the last record if that record didn't end in a linefeed.
02/08/2000 - version 3.3. Fixed a bug the erased the header on "Insert Record" command if there were no prior records.

02/02/2000 - version 3.2. Added registry write to assert .CSV association on each invocation. Otherwise other programs overwrite the association.

01/13/2000 - version 3.1 - Fixed clipboard bug that caused problems in Windows 98.

01/11/2000 - version 3.0 - Major upgrade: added editable row display, new toolbar functions, cleaned up some bugs.

12/01/1999 - version 2.0 - Initial public release.
Sorry — there is no user support. Please do not write and ask for assistance. dbEdit is basically free, and I cannot offer "customer support" for a free program. The provided help file is quite comprehensive.
These Pages Created and Maintained using

Arachnophilia.